Faculty members said the curriculum should broaden its music offerings
by Bradford Betz | Fox News
Source: Fox News
03/29/2021
Staff members within the University of Oxford's music department have deemed sheet music "colonialist" and have suggested ways to "decolonize" the curriculum.
Professors said that music notation has not "shaken off its connection to its colonial past" and that not rebranding it would be a "slap in the face" for students of color, according to documents reviewed by the British outlet The Telegraph.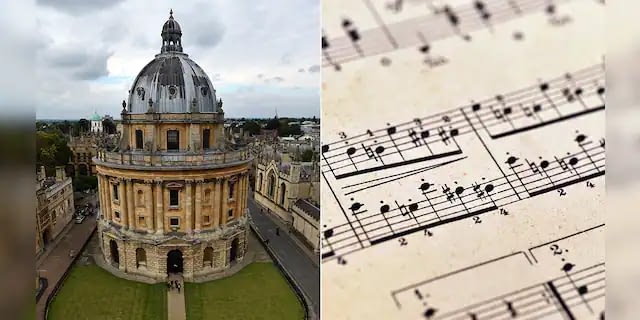 The same faculty also reportedly questioned whether the current curriculum was complicit in "white supremacy," pointing to the program's focus on "white European music from the slave period" – composers like Mozart and Beethoven.
The professors further suggested that certain classical music skills – like playing the piano and conducting orchestral arrangements – ought not to be required because they structurally center "white European music" and cause "students of color great distress."
The faculty members said the curriculum should broaden its music offerings with studies like "African and African Diasporic Musics," "Global Musics," and "Popular Musics."
Oxford's music curriculum already offers non-Eurocentric course options, but the professors who proposed these changes said the school's nearly "all-white faculty" gives "privilege to white musicians" by default.
The proposed changes appeared to have driven in response to the Black Lives Matter movement.
"Arising from international Black Lives Matter demonstrations, the Faculty Board proposed making changes to enhance the diversity of the undergraduate curriculum."
A spokesperson for Oxford's Faculty of Music told Fox News that earlier reports incorrectly stated that the faculty was considering doing away with music notation altogether. 
"For the past couple of years, the Faculty of Music has been planning some exciting new elements to our curriculum in consultation with our staff and students which we will be pleased to publish in the summer once they have University approval," he said.
"While retaining (and in no way diminishing) our traditional excellence in the critical analysis, history and performance of the broad range of western art music, we are exploring ways to enhance our students' opportunities to study a wider range of non-western and popular music from across the world than is currently on offer, as well as music composition, the psychology and sociology of music, music education, and much more." Bradford Betz is an editor for Fox News. Follow him on Twitter @bradford_betz.